Chai tea is preferred by many as a healthy substitute to coffee and decaf.
Here we provide information from our experience and research to help you make an informed decision in the confusion over decaf, chai, coffee and tea. The spices in chai have longstanding evidence of supporting various body systems, improving circulation and immune system functioning as well as increasing mental clarity and general mood enhancement. While black tea in chai does contain caffeine, it has much less caffeine than coffee. The amount of caffeine in chai is between coffee and decaf.
Share your thoughts and perspectives about changing from coffee to chai at the "Chai as a Coffee Alternative" forum of the Chai! Message Board.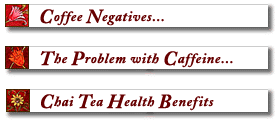 Please visit the Chai! Message Board to post your comments. There you can see what others are saying about chai as a substitute for coffee, participate in the discussions, and find more reader's comments.